Kaz Hayashi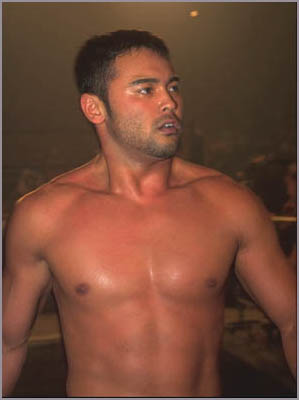 Welcome to one of the few Kaz Hayashi pages on the Internet! Here you will find some pictures, but for right now the bulk of the information is just that, information.
A little about Kaz...
Real Name: Kazuhiro Hayashi
Ring Names: Kaz Hayashi(WCW), Shiryu(Michinoku Pro), El Gringo(WCW)
Height: ~5'9"
Weight: ~190 lbs.
Finishing Move: Senton Bomb(off-the-top-rope Senton)
Birthplace: Tokyo, Japan
Birthdate: May 18, 1973
Wrestling Debut: November 19, 1992, in a tag team match against Buffalo Chouhi and Mongolian Yuuga, in Tokyo. (Kaz's partner was Terry Boy.) No word on the result of the match.
Titles Held: Central American Middleweight(Thanks to the the Great Hisa's Puroresu Dojo for that one. I am not sure about the dates he held this title, as information on it is rather sketchy.)
WCW Records:
1998: 7-20
1999: 8-18-2(click the link to see his match results for 1999)
Kaz Hayashi, a.k.a. Shiryu or El Gringo, is a young Japanese cruiserweight star. He currently wrestles in WCW, and has challenged for the Cruiserweight title on several occasions.
Known as Shiryu in Japan, Kaz debuted in November 1992. He wrestled in Michinoku Pro, and was the founder of Kaientai. Currently the Kaientai stable includes Dick Togo, Men's Teioh, Shiryu, and TAKA Michinoku. When he came to North America in early 1998, he became known as Kaz Hayashi. Rumor was that he took the name from Acclaim Japan head honcho Shigekazu "Kaz" Hayashi, but Kaz Hayashi is in fact his real name.
Kaz debuted in WCW early in 1998. He fought a few matches within the Cruiserweight division before going on hiatus for a few months. His first match back was against Dean Malenko on Nitro on August 24, 1998. Soon after his return, Sonny Onoo, who had formerly managed Ultimo Dragon and Yuji Nagata, began scouting him. Sonny first appeared at ringside with Kaz for a match with Cruiserweight Champ Juventud Guerrera on September 12, 1998. Kaz was on his way to establishing himself as a legitimate threat within the Cruiserweight division, but following a loss at the hands of Ernest "The Cat" Miller on October 5, 1998, Onoo left Kaz. This led to a feud between Kaz and Miller.
Kaz fought several matches against Miller over the next month. Then, on November 16, 1998, Kaz Hayashi wrestled Sonny Onoo under a mask as "El Gringo." During the match, "El Gringo" unmasked, and unsurprisingly, it was Kaz. However, as Kaz began to gain an advantage on Onoo, Miller ran out to save his manager. This led Kaz to search for a partner to fight Miller and Onoo at World War 3. Kaz found Perry Saturn, but unfortunately the heels cheated to defeat Hayashi and Saturn at World War 3.
After this, Kaz appeared to get lost in the shuffle, as he has basically become a jobber to the stars. However, in 1999 he has gained two wins over Lash LeRoux, as well as wins over Blitzkrieg and El Dandy. He appears to be once again establishing himself as a threat to the Cruiserweight Title.
In September, 1999, Kaz became a threat to the title, fighting Lenny Lane at Fall Brawl for the title. Unfortunately, Kaz lost, and for a while he was lost in the shuffle. However, in 2000 he joined with Yun Yang and Jamisan to form the Yung Dragons. Currently, they are feuding with 3-Count.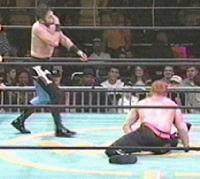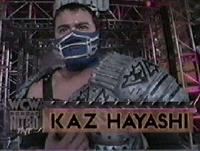 Note: On the 2/11/99 edition of Thunder, Sonny Onoo sold Glacier's armor to Kaz. As you can see, Kaz looks more ridiculous than Ray Lloyd did in it.
Updates
7/21/2000-Yes, I've finally gotten around to updating the page. Kaz has gotten more air time in recent weeks, with the feud with 3-Count and the "deal" with Ernest Miller. I actually find the bits with the Yung Dragons and the Cat very amusing. At the very least, Kaz is getting TV time, which is good.
As for the page, the Track Record will be updated some time tomorrow, most likely, so look for that.
Pay-Per-View Appearances
| | | | |
| --- | --- | --- | --- |
| Event | Date | Match | Winner |
| WCW World War 3 | 11/22/1998 | Kaz Hayashi & Perry Saturn vs. Ernest Miller & Sonny Onoo | Miller & Onoo |
| WCW World War 3 | 11/22/1998 | 3-ring, 60-man Battle Royal | Kevin Nash(Kaz was 28th man eliminated) |
| WCW Fall Brawl '99 | 9/12/1999 | WCW Cruiserweight Champion Lenny Lane | Lenny Lane |
---
Kaz's 1999 Track Record
Information about the (web)Master
Current Theme Music-Courtesy of WrestleThemes
Dragon Kid
Shiima Nobunaga



DDT Digest
Highspots



LuchaSwag
visitors since 7/14/1999.
www.digits.com